Today is a grey Saturday morning in November - but that hasn't stopped 200 Halton residents having a great time taking part in the free, national running phenomenon, known as parkrun.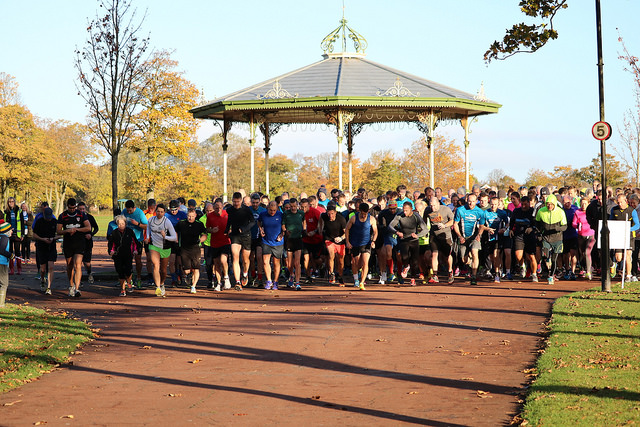 I'm here at Victoria Park, Widnes to find out more about parkrun from Andy Leslie, co-event director who has been volunteering - and taking part - since it began in Halton in January 2015.
"Halton Borough Council helped us to set up parkrun and they have been incredibly supportive ever since," he says. "The event is staffed by volunteers but HBC helps us promote the event which is free to all. We now regularly have more than 250 people taking part each week."
It's easy to see why parkrun is so successful; it's a totally democratic way to get - and keep - fit. There are runners of all age and abilities following the course this morning, from slow to fast - and everything in between. I can see grandads with grandchildren, dogs leading their owners, mums pushing buggies and whole families egging each other on. Even in the damp drizzle, everyone appears to be having fun.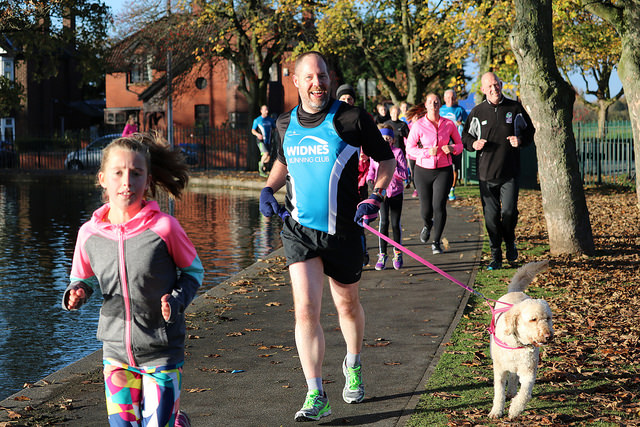 The original parkrun began in 2004 in Bushy Park, set up by Paul Sinton-Hewitt, a keen runner. He asked a few other like-minded people if they would like to join him on a Saturday morning jog around this lovely part of London and the idea quickly caught on. Parkrun is now a weekly event in 14 countries across five continents.
Back in Halton, Andy used to play cricket until he realised that running would fit into his life much more easily. "It's such a flexible sport," he says. "You don't need a team in order to take part and parkrun doesn't take a lot of time out of your day."
Ah, yes; the time. I took part in an organised 5k run once - although I'm not sure I could do it today. My finishing time was about 35 minutes and looking at Widnes parkrun statistics, that's not too bad. Average run time is 30 minutes, but, according to Andy, even if I took twice as long, I shouldn't be put off joining in. "We have volunteer 'tail runners' at the back, each week, to keep you company," he explains. Which means, of course, there's always someone behind you - and someone to chat to if you need a little encouragement.
Agata Rutkowska, originally from Poland but now resident in Halton, first took part in Widnes parkrun in March 2015. She explains what parkrun means to her.
"In Poland, my dad was the co-ordinator of Warsaw parkrun so, naturally he suggested that I join when I moved to the UK. And I've met so many people as a result," she says. Today, four stone lighter (yes, that's right, four stone!) and a regular volunteer at Widnes parkrun, Agata tells me she has completed 55 runs and knocked 10 minutes off her personal best time.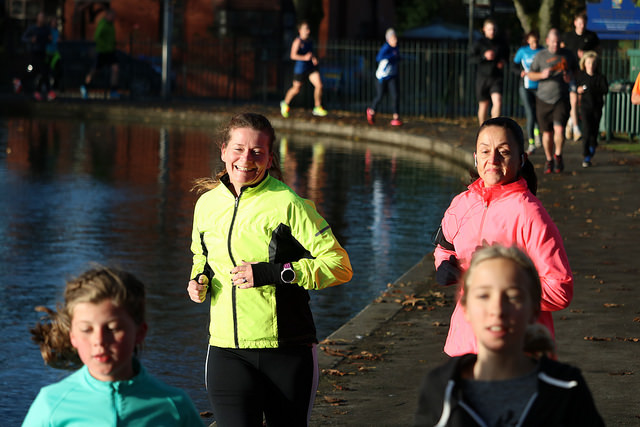 And that, I think, explains the brilliance of parkrun. It's a fun, free, inclusive way to get fit and it crosses countries - and continents.
I am definitely going to join parkrun where I live but, if you live in Halton and you'd like to take up running or jogging - or even walking to begin with - go online at www.parkrun.org.uk and find out more. You only need to register once and you are then eligible to take part in any parkrun location that takes your fancy.
Waikiki anyone?
www.parkrun.org.uk/widnes/
PS Thanks to Agata for all the fab photos!