Do your kids love building stuff? Are they interested in jet engines or cars?
On 28 July Halton's Children's Centres are offering all families the chance to go behind the scenes at Daresbury Laboratory for an Engineering Open House day. There will be talks by real scientists, interactive demonstrations and, best of all, a behind the scenes look at the building of the Bloodhound SSC, Britain's 1,000 miles an hour supersonic land vehicle, currently in development.
This half day event is available on a 'first come first served basis' and costs £2 per family. Transport is provided from your nearest Children's Centre.
The four hour event includes a mini-tour of a full-sized replica of the Bloodhound. Powered by both a rocket engine and a jet engine it has more than six times the power of all the Formula 1 cars on a starting grid put together!
Families will design and build their own air-powered rocket car and launch it using an air- powered launcher. The fastest car on the day will get their team name on Bloodhound SSC.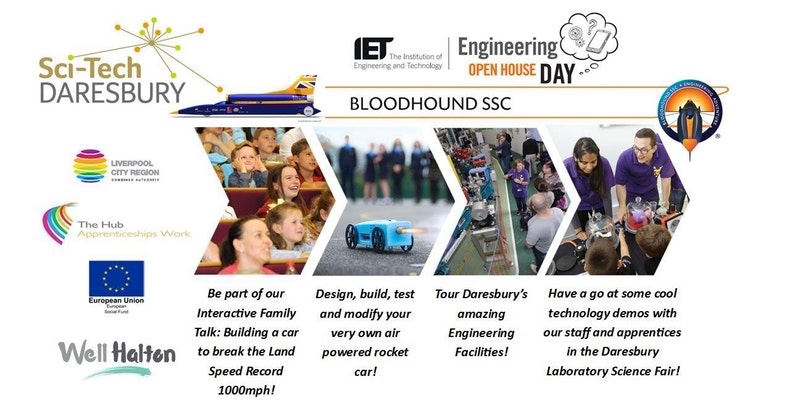 For families with older children there will also be a Careers and Apprentice Hub with information on apprenticeships and job opportunities at Daresbury Laboratory as well as in the wider Liverpool City Region.
This is a great chance for all the family to see Daresbury Laboratory's world class facilities and be inspired by real-life rocket scientists. The supersonic hands-on activities and demonstrations will be sure to keep everyone entertained and inspired!
Drop into your closest Children's Centre for more information and sign up now.